Upcoming Events.
July 1st, 2016, 1st Friday: Steven J. Edberg, JPL, Pluto mission
Aug 5, 2016, 1st Friday: Todd Boroson, LCOGT network of telescopes
September 2, 2016, 1st Friday:
September 17, 2016: Astrovaganza, SBMNH
Sky and Telescope
This Week's Sky at a Glance
---
Friday, JULY 8th, 7 PM

2016 (SECOND FRIDAY)
Stephen J. Edberg
NASA Jet Propulsion Laboratory

,

California Institute of Technology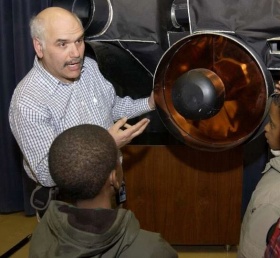 Topic: Pluto's New Horizons
Just a year ago, NASA's New Horizons was returning new findings about the first (dwarf) planet discovery of the 20th Century, Pluto. Even now, New Horizons' data continue to trickle back to Earth. To the surprise of many, cold, dark Pluto was not the battered target anticipated at the outskirts of the Sun's planetary system. Surface features, some familiar and many not, and other measurements indicate Pluto holds many surprises.
BIO: Jet Propulsion Laboratory astronomer Steve Edberg began his professional astronomical career the summer after graduating from high school in 1970 with a job at the High Altitude Observatory. He worked mostly in solar physics through college, graduate school, and his first job, at San Fernando Observatory, though he also observed extragalactic objects from Siding Spring Observatory and the Australian National Radio Astronomy Observatory.
Since 1979 he has worked at NASA's Jet Propulsion Laboratory. He has served as an investigation scientist on Galileo (to Jupiter), Cassini (to Saturn), and Comet Rendezvous/Asteroid Flyby. He served as System Scientist and Science Office Manager on the Space Interferometry Mission. In these positions he has specified science requirements for spacecraft early in the design phase, coordinated competing science investigations during flight operations planning stages, and has planned and prepared instruction sets for measurements executed by robotic spacecraft in flight. He also organized and led the Amateur Observation Network of NASA's International Halley Watch.
Besides his professional experience, Steve has been an active amateur astronomer continuously since 1966. He has led solar eclipse expeditions around the world and other astronomical expeditions to observe comets, meteors, and "eclipses" of stars and planets by the Moon and of stars by asteroids.
His photography, research, instruments, and writing have appeared in professional journals, in popular periodicals, and in several books.
He has been honored by NASA with an Exceptional Service medal and by the International Astronomical Union with the naming of a minor planet, 3672 Stevedberg, and has been awarded a NASA Exceptional Service Medal and JPL Award for Excellence for his work in outreach. Carter Observatory in New Zealand named him Carter Memorial Lecturer in 2001.
Click this link for a listing of our past speakers
---

---
SBAU Telescope Workshop Every Tuesday 7:30pm to 9:00pm
"Want to learn how to make your own telescope or learn more about astrophotography? Well, the SBAU has a Telescope Workshop! At the Telescope Workshop, we cover construction techniques for mirrors and telescopes, but also optics, cameras, and image processing software discussions. We encourage novice astronomers to come, ask questions, and even build, while advanced members are re-invited to attend if they want to discuss telescope issues not covered at the monthly meetings or just to help out. Check out http://sbautw.blogspot.com for a sample of past weekly Tuesday night sessions at the Broder Building at the Museum of Natural History."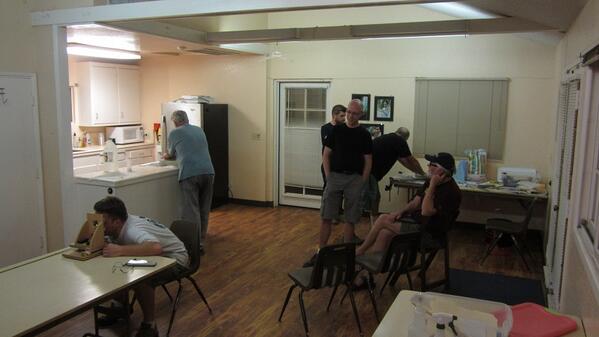 ---
All the Red Dots Show where people have viewed our site from Around the World