---
Upcoming major activities (also see Outreach Events Calendar):
-Oct 6: 1st Friday General Meeting,
-Oct 20-22: Campout, Members only, Cachuma Lake
Mohawk group site? Sat 5p potluck.
-Nov 3: 1st Friday General Meeting,
-Dec 1: 1st Friday General Meeting, member approval of Officers
slate for 2018, maybe Member's Presentations Night?
-Dec 6: Wed, 6-9p, Member's only Holiday Party, High Sierra
Grill, ~$32 reserv.
---
Cachuma Lake Campout 2016 Video
---
1st Friday, General Meeting is Friday, October1st, 2017 in Farrand Hall at the Santa Barbara Museum of Natural History
If you arrive by 7pm sharp, there will be a short Gladwin Planetarium show. The meeting starts at 7:30pm.

Our October meeting will feature Erin O'Connor, a professor at the earth and planetary sciences department at Santa Barbara City College. He will be speaking about some astronomically significant historical sites in Europe and show us pictures and what he learnd about them from his sabbatical.
Erin O'Connor graduated from Harvey Mudd College with a B.S. in physics, and from UCSB with a M.S. in statistics. In addition to SBCC, he has taught at California Polytechnic State University, Allan Hancock College, Ventura Community College, UCSB, and Santa Barbara Middle School. He has also worked for Applied Magnetics Corporation, Orbisphere Laboratories, Integrated Scientific Imaging Systems, and STATS Consulting.
Click this link for a listing of our past speakers
---

Also:
2nd Saturday, Star Party, Museum of Natural History, 7-10p
3rd Fridays, Star Party, Westmont College, 7-10p
See our Events Calendar for all Outreach Events
SBAU Telescope Workshop
Every Tuesday 7:30pm to 9:00pm

"Want to learn how to make your own telescope or learn more about astrophotography? Well, the SBAU has a Telescope Workshop! At the Telescope Workshop, we cover construction techniques for mirrors and telescopes, but also optics, cameras, and image processing software discussions. We encourage novice astronomers to come, ask questions, and even build, while advanced members are re-invited to attend if they want to discuss telescope issues not covered at the monthly meetings or just to help out. Check out http://sbautw.blogspot.com for a sample of past weekly Tuesday night sessions at the Broder Building at the Museum of Natural History."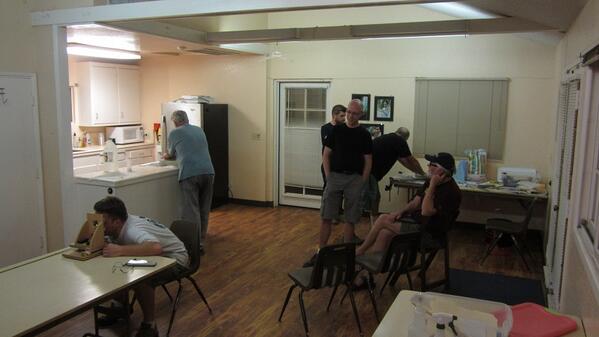 ---

All the Red Dots Show where people have viewed our site from Around the World