Upcoming Events.
-Oct 28-29, 2016: Fri-Sun, SBAU campout at Cachuma, Mohawk Shores, Potluck 430p Sat, new moon.
Nov 16, 2016, Wed., AoTSB, M8RX bar, 409 State St.
Nov 4, 2016, SBAU 1st Friday meeting Farrand Hall: Keri.Bean@jpl.nasa.gov, NASA Dawn mission
Dec 2, 2016, SBAU 1st Friday meeting Farrand Hall: Members Night presentations; slate of volunteer officers for approval
Dec 7, 2016, Wed., AoTSB, M8RX bar, 409 State St.
Dec 8, 2016, 2nd Thursday, SBAU Holiday dinner, 6pm gathering, Sierra Grill ~$20 dinner (RSVP), +$10+ Toys for Tots unwrapped Astro gift
Dec 14, 2016, Wed., LCOGT hosting Tabetha Boyajian, Tabby's Star is a Dyson Sphere? Center Stage theatre?

Sky and Telescope
This Week's Sky at a Glance
---
Friday, November 4th, 7 PM

2016
Keri Bean: NASA Dawn Mission
ABSTRACT: NASA's ambitious Dawn mission is one of the most exciting ventures into our own solar system. Previously, Dawn explored the spectacular asteroid Vesta from July 2011 to September 2012. Dawn arrived at Ceres in March of 2015 and has been sending back exciting data about our closest dwarf planet neighbor ever since. Vesta and Ceres are the two most massive objects in the main asteroid belt between Mars and Jupiter. Dawn uses futuristic, science fiction-like ion propulsion to efficiently move itself to visit its two targets. Dawn's exploration takes us back in time to the formation of the solar system to look at the leftover building blocks of our local neighborhood. In this talk, we'll follow along with Dawn's journey through the solar system and look at the science and engineering that makes the mission happen.
Bio: Keri Bean Keri is a mission operations engineer at NASA's Jet Propulsion Laboratory in Pasadena, California. She currently works on the Dawn mission as a science planner and sequencing engineer and on the Mars Exploration Rover Opportunity as a Tactical Uplink Lead. She got her bachelor's and master's degrees at Texas A&M University in meteorology, with her focus on studying the weather on Mars. While in school, she worked on the Mars rovers Spirit, Opportunity, and Curiosity, along with the Phoenix Mars Lander and Hubble Space Telescope missions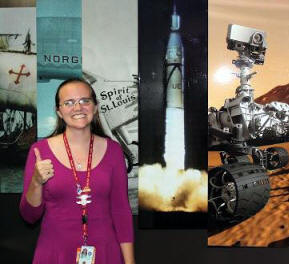 Click this link for a listing of our past speakers
---

---
SBAU Telescope Workshop

Every Tuesday 7:30pm to 9:00pm
"Want to learn how to make your own telescope or learn more about astrophotography? Well, the SBAU has a Telescope Workshop! At the Telescope Workshop, we cover construction techniques for mirrors and telescopes, but also optics, cameras, and image processing software discussions. We encourage novice astronomers to come, ask questions, and even build, while advanced members are re-invited to attend if they want to discuss telescope issues not covered at the monthly meetings or just to help out. Check out http://sbautw.blogspot.com for a sample of past weekly Tuesday night sessions at the Broder Building at the Museum of Natural History."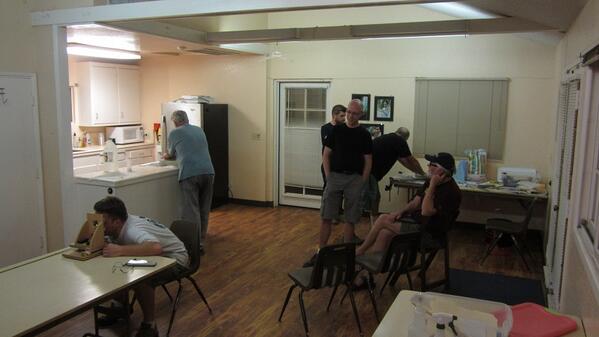 ---
All the Red Dots Show where people have viewed our site from Around the World

Click for weather forecas
Clear Sky Charts

Santa Barbara

Cachuma Lake
Figueroa Lookout


Celebrate Global Astronomy Month


Next AU Public Event or Activity
See Our Events Calendar

Current Astronomy New Links
Astronomy Picture of the Day
Current Comets
Sky And Telescope
Space News.com
SpaceDaily.com
SPACE WEATHER.com
Astronomy Magazine
LiveScience.com
NASA.com
NOAA Space Weather Prediction Center
Our Very Own Javier Rivera Interviewed for the Independent
My Life: The Magic of Astronomy
Museum of Natural History Curator Reflects on a Career in the Stars
The SBAU Forum is here


Register NOW at

http://www.sbau.org/sbauforum/

. The Public is more than welcome, start or join a conversation with Santa Barbara area astronomy & telescope club members. (read your comments out loud before sending and see if your mother would approve)!"




Also see the new

SBAU NEW CLASSIFIEDS SECTION


Planetarium Shows & Times at the
Santa Barbara Museum of Natural History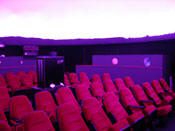 Fun For Kids: