---
Upcoming major activities (also see Outreach Events Calendar):


Monday January 8th 6:30pm to 8:00pm
Science Pub at Dargans: Achieving Interstellar Flight
Join UCSB Astrophysicist, Professor Philip Lubin as he discusses their NASA Starlight program to use recent advances in photonics enabling small spacecraft to explore the nearest stars and exoplanets more than a 1000 times faster than current propulsion technologies.
Admission is free."

18 EAST ORTEGA STREET Santa Barbara, Ca.

TUESDAY, JANUARY 16, 7 PM
Telescope Tuesday at the Camino Real Marketplace
in Goleta. We set up in the plaza by the theater.
Third Tuesday of each month for 2018 ***

Sunday January 21st at 2pm at the Goleta Library
Lars Bildsten: Hearing the Stars New Insights into Stellar Interiors

-WEDNESDAY, JANUARY 31, 4 AM TO SUNRISE
Get up early and watch a total lunar eclipse!
---
Cachuma Lake Campout 2016 Video
---
1st Friday, General Meeting is Friday, January 5th, 2018 in Farrand Hall at the Santa Barbara Museum of Natural History
If you arrive by 7pm sharp, there will be a short Gladwin Planetarium show. The meeting starts at 7:30pm.
Our January speakers will be filmakers Harun Mehmedinovic and Gavin Heffernan, who will be presenting SKYGLOW; a hardcover photo book and timelapse video series exploring North America's remaining magnificent night skies and the grave threat of light pollution to our fragile environment. SKYGLOW explores the history and mythology of celestial observation, the proliferation of electrical outdoor lighting that spurred the rise of the phenomenon known as "skyglow," and the Dark
Sky Movement that's fighting to reclaim the night skies.
Click this link for a listing of our past speakers
---

Also:
2nd Saturday, Star Party, Museum of Natural History, 7-10p
3rd Fridays, Star Party, Westmont College, 7-10p
See our Events Calendar for all Outreach Events
SBAU Telescope Workshop
Every Tuesday 7:30pm to 9:00pm

"Want to learn how to make your own telescope or learn more about astrophotography? Well, the SBAU has a Telescope Workshop! At the Telescope Workshop, we cover construction techniques for mirrors and telescopes, but also optics, cameras, and image processing software discussions. We encourage novice astronomers to come, ask questions, and even build, while advanced members are re-invited to attend if they want to discuss telescope issues not covered at the monthly meetings or just to help out. Check out http://sbautw.blogspot.com for a sample of past weekly Tuesday night sessions at the Broder Building at the Museum of Natural History."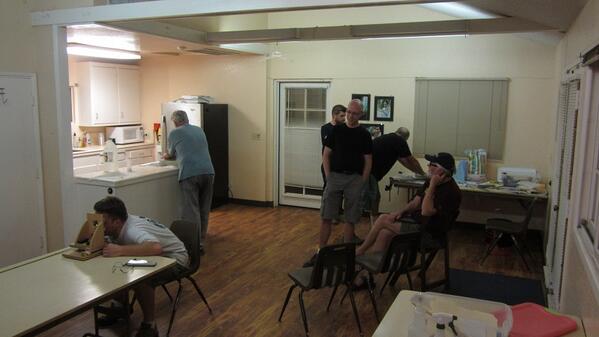 ---

All the Red Dots Show where people have viewed our site from Around the World